Home
>
How to add glitter to Piczo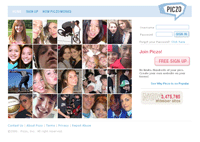 Piczo is a Website builder and community site. Popular and highly customisable our glitter graphics work well with piczo.com. Please follow our brief instructions below for help.
use our free glitter tools. Follow the instructions there and copy the code.
Point your browser to piczo.com and login
Once you have logged in and you are at the page editor screen - locate the "Tools" drop-down menu (far right) and select "Controls" from this menu. (see image below)

This will bring up a pop-up window, click the "add" button at the top under "Add HTML".
This will insert a customisable text block - it will contain the text "put your HTML here" (see image below). This is fine you now need to click the T button on the top right of this block.

Simply paste the code provided by addglitter.com into the textbox and press OK - You should see the effects immediately. Have fun!
Not working? please contact us for further advice