Home
>
How to add glitter to Hi5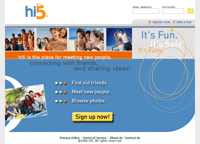 IMVU is a 3D instant messager service. Addglitter.com is fully compatible is IMVU. To add glitter to your page simply follow these instructions.
use our free glitter tools. Follow the instructions there and copy the code.
Go to Hi5 and log in
At the top of the screen you will see the usual tabs - you want to click on "My Profile" and benieth that click on "edit"
You will then see further tab - click on "Lifestyle". At the bottom of the screen you will see two large boxes "About Me" and "I'd like to meet". Place the copied code in either on of these boxes.
Log out and view your glittery page!
Not working? please contact us for further advice