Adding Glitter Graphics to Orkut Scraps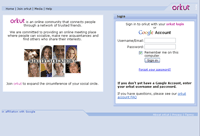 Orkut is a rapidly expanding social network that has many of its users fom Brazil and South America. Recently they have introduced html codes to be inserted into scraps which mean you can insert flash and cool animated glitter graphics straight into your profile or other friends scraps from addglitter.com.
Inserting an mage or tool from addglitter coldn't be simpler, when you are typing a message into a scrap just paste the html code we provide directly into the message and you're done!
Not working? please contact us for further advice