Home
>
How to add glitter to Migente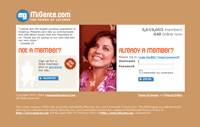 Migente is a social network site mainly targetting the American Latino community. It allows for great customisation in terms of layouts and graphics. Please follow the points below for details on how to add glitter graphics.
use our free glitter tools. Follow the instructions there and copy the code.
Go to migente.com and log in.
Locate the "edit" link - it is located at the bottom left of the screen (next to your username). See image below.

Click on the link which says "Personal Message" - this should open up a message textbox. Simply paste all HTML code copied from our site and paste it in here.
Click on the preview button or the finish button to complete the changes.
Not working? please contact us for further advice